30 National Dishes in 18 Months
November 15, 2014

Categories:

Tags:

Bacalhau, Beef noodle soup, Bobotie, Borscht, Cachupa, Chakhchoukha, Chilli crab, cooking, Crack conch, dishes, Fårikål, Feijoada, Fiambre, Fish and chips, food, Ful medames, Gallo pinto, Hamburger, Jollof, Kibbeh, Mohinga, Moussaka, Öçpoçmaq, Paella, Pastel de choclo, Phở, Platillo Moros y Cristianos, Pot-au-feu, recipe, Romazava, Seswaa, Stamppot, Tum Mak Hoong
1. Spain: Paella
2. Laos: Tum Mak Hoong
3. China: Chow Mein
4. Brazil: Feijoada
5. Taiwan: Beef noodle soup
6. Bahamas: Crack conch with peas and rice
7. Chile: Pastel de choclo
8. Greece: Moussaka
9. France: Pot-au-feu
10. Burma: Mohinga
11. South Africa: Bobotie
12. Republic of Tatarstan: Öçpoçmaq
Wait.. where? And What?!
13. Lebanon: Kibbeh
14. Russia: Borscht
15. Cuba: Platillo Moros y Cristianos
16. Guatemala: Fiambre
That looks very pretty. I'm gonna struggle with pretty.
17. Netherlands: Stamppot
18. United States: Hamburger
19. Singapore: Chilli crab
20. Vietnam: Phở
21. Madagascar: Romazava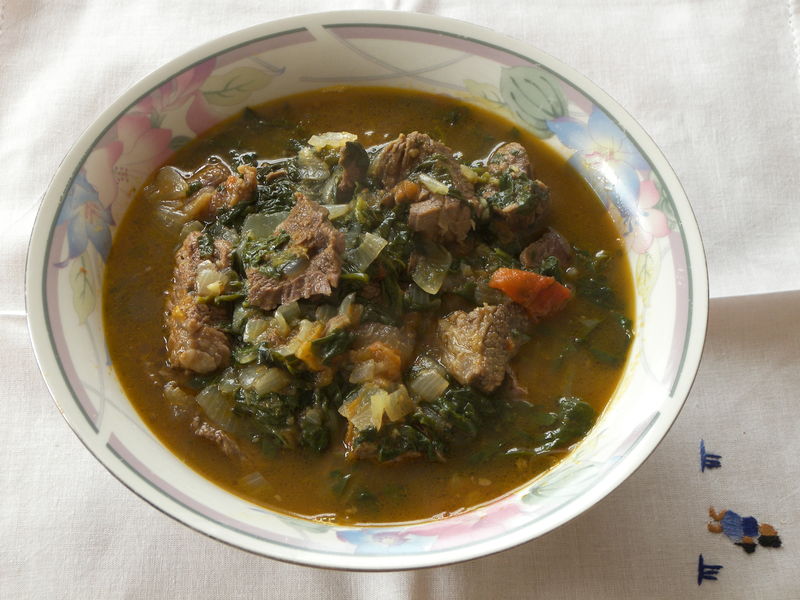 22. Norway: Fårikål
Awesome. A dish I can't even pronounce.
23. Portugal: Bacalhau
24. Algeria: Chakhchoukha
25. Egypt: Ful medames
26. Nicaragua: Gallo pinto
27. United Kingdom: Fish and chips
28. Cape Verde: Cachupa
29. Botswana: Seswaa
30. Nigeria: Jollof rice
Right then. Lets do this.